Enduring Cultures
Mississippi's Native Nations created distinctive cultures and traditions. This rich heritage—like their people—remains strong and vibrant today. Fourteen federally recognized present-day Native American Nations have historical interests in Mississippi: the Alabama Coushatta Tribe of Texas, Alabama Quassarte, Cherokee Nation of Oklahoma, Chickasaw Nation, Choctaw Nation of Oklahoma, Coushatta Tribe of Louisiana, Eastern Band of Cherokee Indians, Jena Band of Choctaw Indians, Miami Tribe of Oklahoma, Mississippi Band of Choctaw Indians, Muscogee Nation, Osage Nation, Quapaw Tribe of Oklahoma, and Tunica-Biloxi Indian Tribe of Louisiana.
Forced land cessions and federal policy resulted in the eviction of many native people to other places. Today, the Mississippi Band of Choctaw Indians is the only Tribe to live within the state. However, the Chickasaw Nation's homeland in Northeast Mississippi is preserved through the Inkana Foundation, and all Tribes return to the state often to share and preserve their traditions.
From the Gallery
Explore artifacts, photos, and documents featured in the Enduring Cultures gallery.
Explore Mississippi
Journey beyond the museum walls and explore the places where history happened and is preserved.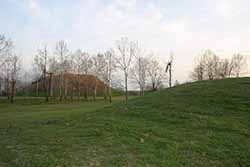 This 42-acre site near Greenville, Mississippi, features 12 prehistoric Native American mounds, two large plazas, and a museum.
2415 Highway 1 North
Greenville, Mississippi

One of the largest Native American mounds in America, this archaeological site is located on the Natchez Trace Parkway.
Stanton, Mississippi
Exit parkway at Rte. 553 intersection; follow signs to mound—about 1 mile.
VISIT THE MISSISSIPPI CIVIL RIGHTS MUSEUM
Explore the movement that changed the nation. Discover stories of Mississippians like Medgar Evers, Fannie Lou Hamer, and Vernon Dahmer, as well as those who traveled many miles to stand beside them, come what may, in the name of equal rights for all.